At LifeSpan we care about you, which is why our products are designed to keep you healthy. Our goal is to provide the highest quality fitness products with the best customer experience. Check out what our customers have to say.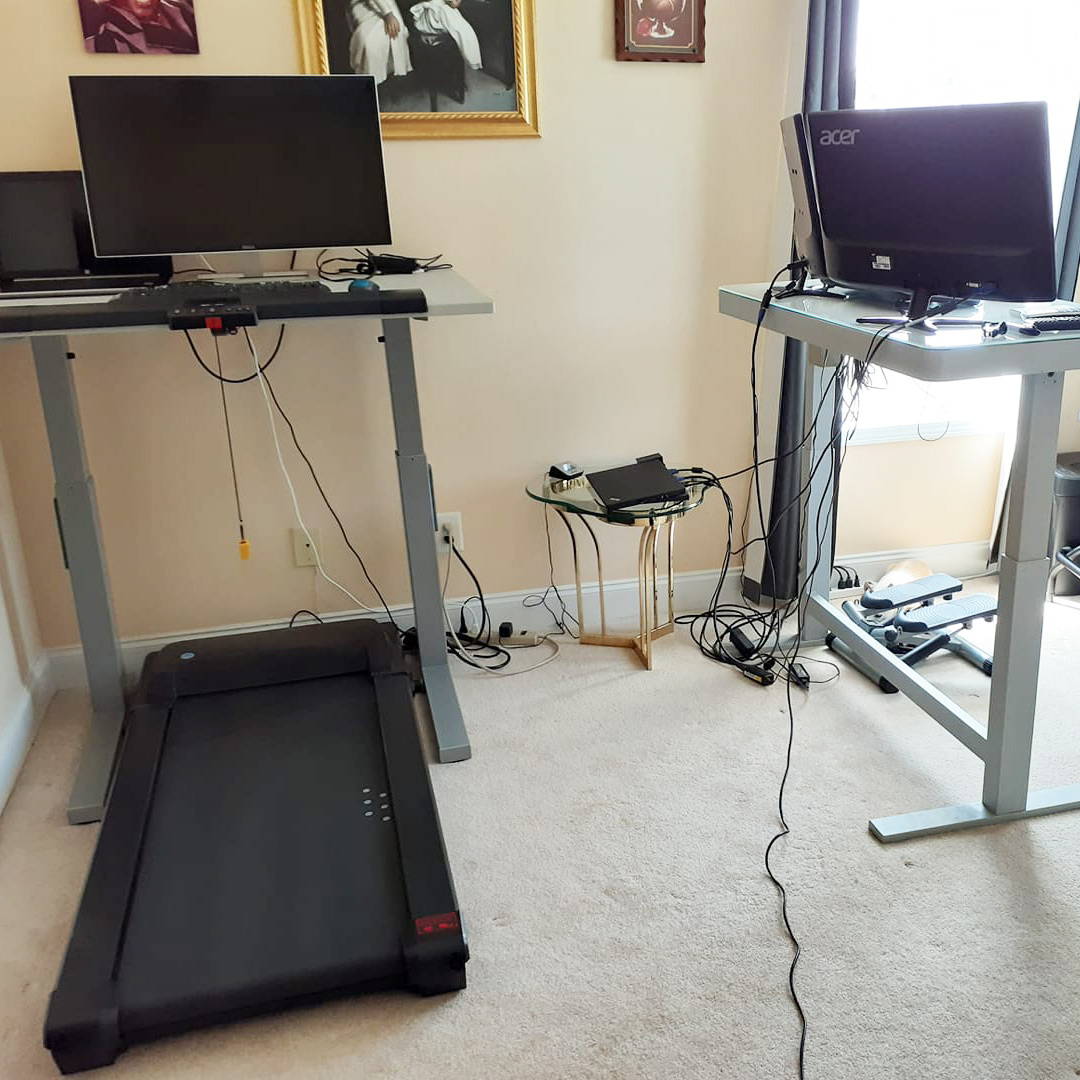 TR1200-DT5 Treadmill Desk
My Lifespan treadmill desk has allowed me to lose almost 100 lbs. That in turn eradicated my diabetes, my sleep apnea, hypertension, bad cholesterol, joint pain and mild anxiety. My day flies by because I am busy walking :)
I flipped flopped back and forth between Lifespan and Nordic Track, but Lifespan kept creeping up at one of the best. One of your customer service reps sealed the deal when I called.
I have told EVERYONE who works remotely about my treadmill. If you look on my fb page, you will often see pictures. If I am not walking on my treadmill desk, I am at my standing desk (while using my mini-stepper). As a project manager on numerous Zoom meetings every day, walking is preferred because being on the mini stepper is too noticeable. I tell everyone, movement is life. That is why dead people don't move. If work gets in the way of working out, combine the two. Lifespan Fitness allows you to do that... with ease. Many have balked at your prices when they bring up your website. I tell them, you get what you pay for…. and I have had no problems at all with my treadmill.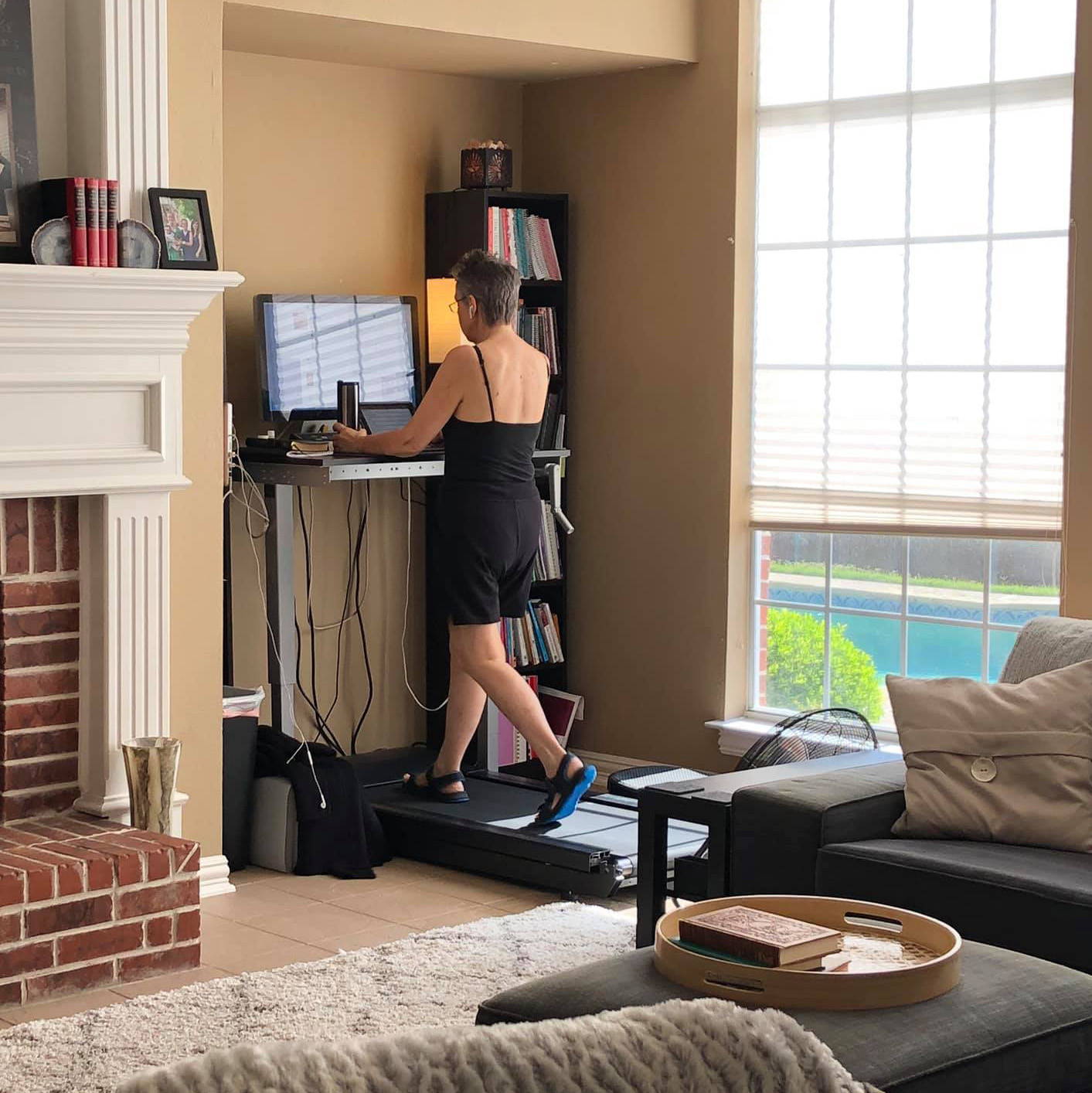 TR1200-DT3 Treadmill Desk
It's part of our lifestyle
I don't pay attention to the number of steps. I do track my daily mileage. On an average day, I walk anywhere from 6mi. to 9mi. I've walked many half-marathon-days through the years of using a TreadDesk, but that's not a day-in-and-day out habit. The highest mileage I've ever walked in one day was 19mi.
My husband also has a treadmill desk here in Texas. We both want our own treadmill desk because on Saturdays we both spend at least half of our Saturday, up until about 1-2pm, walking at our treadmill desk. It's part of our lifestyle - and I bet that our lifespan will be better because of our LifeSpan treadmill desks!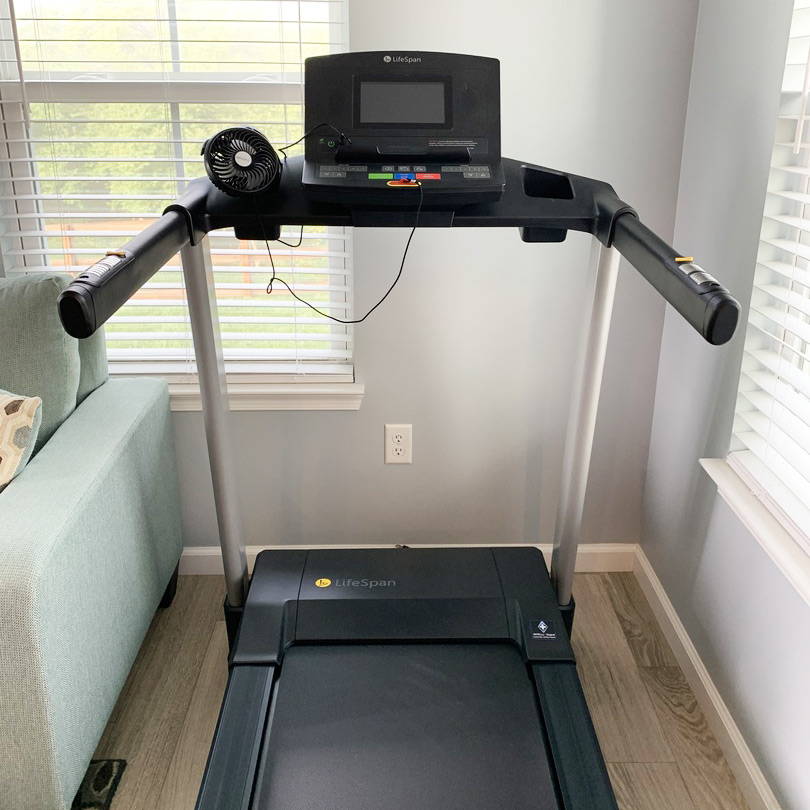 Getting our money's worth!
Talk about getting your money's worth! This treadmill has been amazing. We've been able to do the programmed workouts as well as our own. The fact that a treadmill in this price range has so many incline levels, workouts, heart monitors and speed control on the arms is impressive. We added our own little fan and now it's perfect. I would recommend this treadmill to anyone!
TR1200-DT7 Treadmill Desk
From being a couch potato to a real walker
I've had the LifeSpan desk for years, and could not imagine life without it. I'm an accountant and work from home, and now the rest of the world is forced to work as I do. I feel fortunate that I have my desk, continuing to get exercise and work done at the same time. I do volunteer work in Africa, and use the desk to stay in shape so I can move about to reach isolated villages. My desk takes me from being a couch potato to a real walker (4.5 miles/day) without losing a minute of productivity. Here's proof.... having the energy and ability to hike in the mountains of Ghana and Togo... thanks LifeSpan.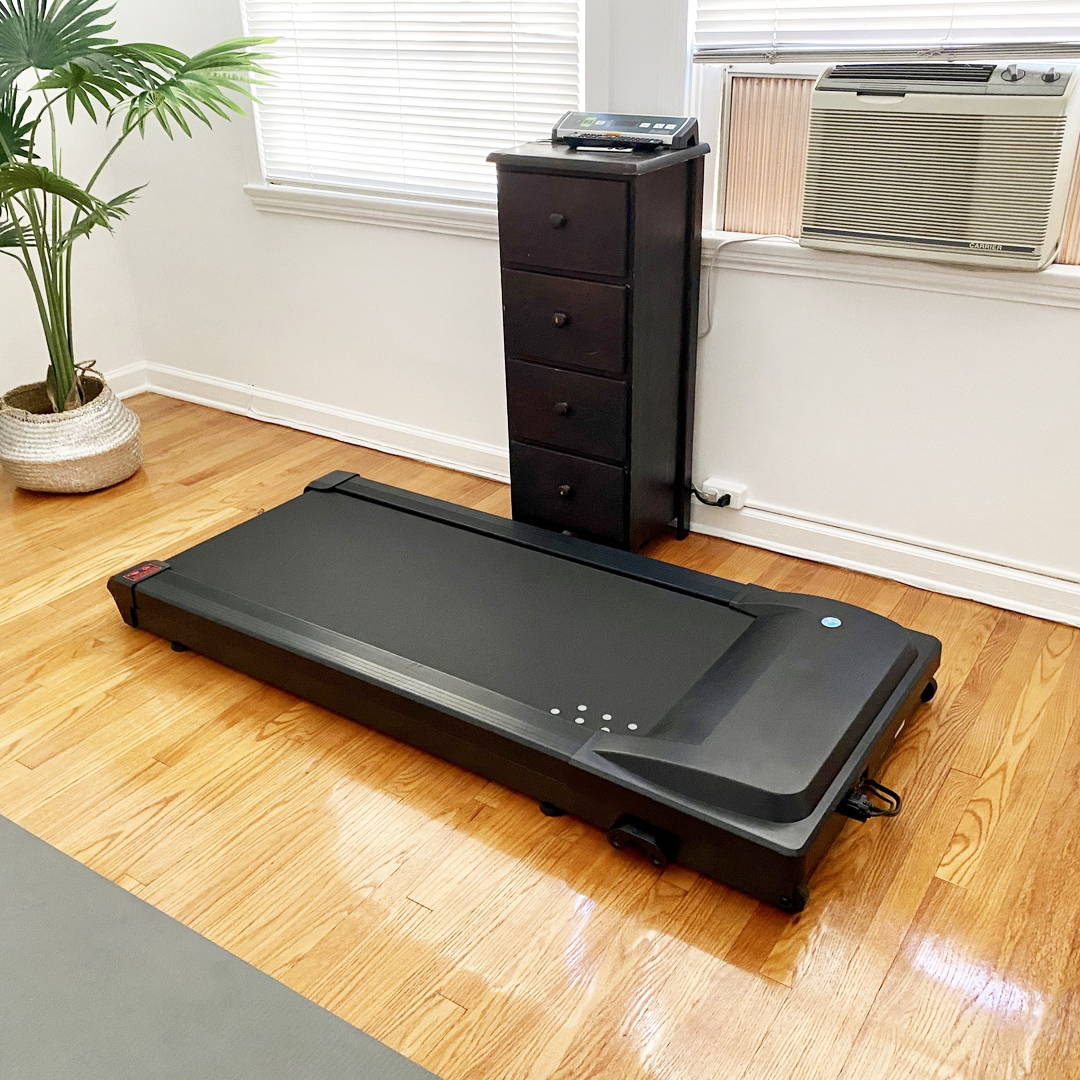 TR1200-DT3 Treadmill Desk
LifeSpan is the best! I had a regular T 1100 for 8 years and gave it to a friend because I wanted more space and then missed walking at home. I got this instead with no desk and I absolutely love it. I never had one problem with the full treadmill over 8 years and that's why I only would buy Lifespan for this model.
TR1200-DT5 Treadmill Desk
I'm a teacher who had to do my job at home due to the pandemic. After weeks of standing or sitting in front of a screen my back and knees were done in. I noticed that when I'd walk periodically during the day (like my job required) my body felt better but as the weeks added on so did my time on the computer. Walking and working was my solution. I could say that my treadmill with the stand up desk saved my life but that would be a hyperbole. However, it did save my sanity! It was exactly what I needed and has been my centerpiece for my work at home over the long haul. Plus I'm getting some mad steps everyday!!! :)
Talk about smooth and quiet!
RW7000 Commercial Rowing Machine
I am extremely satisfied with my new rower. For anyone who loves rowing and appreciates the gym-quality smoothness of a rowing machine like this, look no further. This is by far the best one. I used to use one like this at the gym and I wanted one just like it. Not a belt-pulled version but one with a chain. Talk about smooth and quiet! It does take up 8' of length, but it's worth it if you have space. The price was also competitive. Brant was the one who helped me with the order. He was awesome. I was quoted 7 to 10 days for delivery. I received it in 5 and they delivered it to me on a Saturday. I couldn't ask for a better buying experience. Thank you so much!!!
The psychological benefits have been great
TR1200-DT3 Treadmill Desk
I spent a fair amount of time researching under-desk treadmills, and I'm so glad I got this one. I use it nearly every day. It doesn't take much getting used to before you can use a keyboard comfortably while walking 2mph. The product is high quality, and the manual is really helpful in answering practically any question re: troubleshooting or adjustment. The psychological benefits have been great, too. Even if the workday was a rough one, the association of working directly with physical activity makes you feel like you still *did* something. Hopefully my review remains true for the foreseeable future, but after a month and a half of ownership, I'm really happy with it!
TR1200-DT5 Treadmill Desk
Needed to increase my daily exercise and help with focus. This worked like a charm. Very quiet and easy to use. Helped me with back pain that I sometimes got on just a regular standing desk. Now, I either sit down or walk. About 6 miles a day, actually. I am in my third week as I write this review.
Smooth and easy to operate
TR1200i Folding Treadmill
The TR1200i is an excellent machine. It is smooth and easy to operate. Very well constructed. The shipment packaging was superb & assembly was not complicated.
Easily getting my 10,000 steps a day
TR1200-DT5 Treadmill Desk
I work from home and gained 8 pounds in less than 4 months. I bought this treadmill desk desperate to make a positive change and it has revolutionized my work day! I'm 4 pounds down and easily getting my 10,000 steps a day all while I'm productively working!
My doctor is pleased that I'm doing this
I'm a 77 yr old female and sit a lot in the evening. The ability to work or watch TV at the desk pedaling keeps the blood circulating.. My Dr is pleased that I'm doing this. The desk does not take up a lot of space in my apartment... I am very pleased with my purchase, it is so important to keep moving!
This is the best one you can get
TR1200-DT3 Treadmill Desk
I will keep this short and sweet, this is great, it does not take up a lot of room, it's not too loud. It does exactly what you are buying it to do. Point blank, if you want a treadmill that fits under your desk for the money this is the best one you can get. I'm 235lbs so I needed one that could work with my weight, and it has no issues whatsoever.
TR1200-DT3 Treadmill Desk
This treadmill fits well into my relatively small home office. It runs well and is quiet. I am regularly walking and on Zoom meetings and have never had anyone mention the noise. For me this treadmill offers good value for my money.
The folks at LifeSpan Fitness were a pleasure to deal with. They provided prompt and helpful customer service both before and after my purchase. Thank you, LifeSpan!!
Get moving from the comfort of your home