DESCRIPTION
This treadmill kit includes our smaller exercise equipment mat (
79"x37")
and 100% silicone treadmill lubricant. The equipment mat is large enough to place under almost any treadmill or treadmill desk. The mat is durable, slip-resistant and won't compress or gouge like vinyl treadmill pads. Made primarily from recycled content including car tires, this 3mm thick mat will protect your floors, reduce static and keep dust particles and carpet fibers from getting into the motor and other moving parts. The belt lubricant keeps your treadmill in optimal condition reducing heat and friction, prolonging the life of the motor, electronics, belt and deck. LifeSpan's lubricant contains no harmful solvents and is colorless, odorless, non-toxic and nonflammable.
Features
Protects flooring including hardwood, tile, and carpeting
Absorbs equipment vibration and noise
Easy-clean, non-skid surface
Customer Reviews
Write a Review
Ask a Question
08/04/2023
Tito J.

United States
I recommend this product
Great Treadmill
I saw a show or ad a long time ago and I learned about it, but I just got reminded of it by Instagram. I must say, this treadmill is truly remarkable. While I don't use it directly under my desk, it's conveniently positioned nearby, allowing me to multitask effectively. Whether I'm catching up on emails or enjoying a movie, I can effortlessly keep track of everything while staying active. The treadmill's robust build and impressive power easily accommodate my weight, which has now decreased to 215lbs from 225lbs just last month. My satisfaction knows no bounds – this treadmill has exceeded my expectations. I'm genuinely thrilled with its performance and believe that it's a valuable addition to any home setup. If circumstances permit, having one both at home and in the office would be a game-changer. In essence, I wholeheartedly endorse this treadmill. Its reliability, strength, and versatility have won me over, and I'm convinced that others would benefit immensely from having one as well.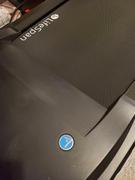 08/05/2023
LifeSpan Fitness
Hi Thank you for the amazing feedback. We are happy to have you in the LifeSpan family. Best,
01/21/2022
Dorothy W.

US
Simple to use
Makes it Quick and easy to maintain quality equipment
01/22/2022
LifeSpan Fitness
Hi, Dorothy. Thank you for your feedback. We are happy you enjoy our equipment. LifeSpan Fitness
09/22/2019
Dan L.

CA
nice compliment to the desk
nice compliment to the desk
LifeSpan Desk Treadmill
I have been happy with my new treadmill, but I only had it for a couple of months before it started stopping continuously any time it was over 2.5 mph. I called and was told that it is fairly common for my model to come with a dry belt, so even though I was lubricating it was still defective. They stated that they needed to send out a new belt but that the belt was on back order and it should be in within two weeks. I waited two weeks and checked back. Still on back order. It has been another week now with no updates. Really hoping that the belt comes in soon so I can start using it again at more than 2 mph...
All wonderful products
These are not cheaply made products. You are getting the quality you are paying for.